Werestored his silver gelatine antique photograph by reconsolidating the base emulsion and retouching the missing areas of the image. We repaired and refinished the frame, replacedthe missing ornaments and brought it back to life with a combination of Shellac and toner.
We gave this old frame a new lease on life by refinishing it using a traditional framing finishing technique called "Sgrafitto" Once a sadly worn tortoiseshell pattern, this now beautiful frame was purchased by an artist who used it to frame one of her own artworks
 
As you can see from the photographs, this stunning 1901 Mirror piece was in terrible shape. All the missing ornaments were replaced and refinished to match the original finish. This piece is available in store for sale.
The skills required for the restoration of can often be applied to the repair of other sculptural objects. This beautiful lamp was damaged in transportbutwe were able to repair the broken pieces, fill in the missing sections and re-gild the surface.
We buy and sell antique frames of all styles and periods pre 1950's . We took a casting from this frame to create a reproduction and exactly repair the damaged area. We sometimes keep the mouldings to use as embellishments and ornamentation on our own original designs.
This piece was missing ornamentation as well as two sections of the timber frame work. (top right and bottom left) We replaced these sections of timber and repaired the missing ornamentation.
 
This was quite a challenge to repair, as the frame was made of solid plaster around a metal wirebase, ratherthan the usual timber. As you can see from the images, it was in a bad state of disrepair. We repaired the broken pieces, then filled and replaced the missing sections before finally refinishing the frame.
 
As we are not qualified art restorers ourselves, upon enquiry, we refer our clients to our network of qualified conservators and other highly trained industry professionals. However sometimes repair work comes along that is of a lesser financial value and within our capabilities. This particular piece was of great sentimental value to our client. We re-backed the painting with alayer of canvas, then infilled the missing section and retouched to blend before adding a beautiful new frame.
This was a challenge if ever there was. It is common to see digital restorations offer for old photos but our clients often want the original restored. This piece known was missing large sections. These old images were mounted to a curved cardboard. We took an old photo from one of the many frames we buy and sell and replaced the broken sections with material from the same period. We then infilled the joins and in painted the missing areas.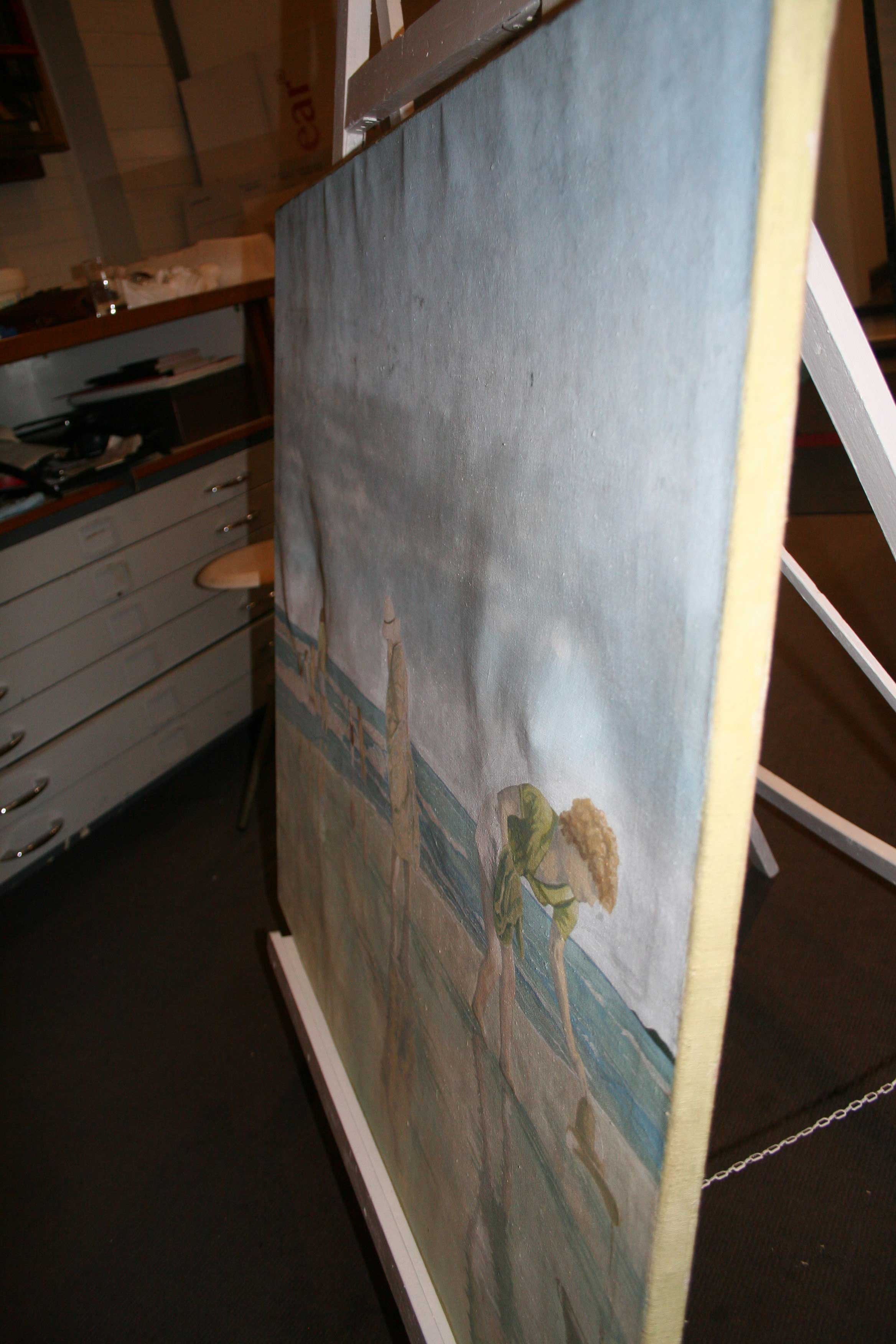 This canvas was damaged by something leaning against it long term. We were able to get the canvas back into shape.
 
This canvas was brought to us by a client with a huge tear in the bottom right hand side. What was difficult with this tear is that it was not a clean tear. We did a patch repair on the rear of the canvas, infillied the cracks and re touched the area to blend.
 
This lovely mirror had been painted by our clients mother and she had wanted to restore and preserve it. We cleaned and restored the painting on the mirror and cleaned the original slip and velvet mid frame. To protect the painting from further deterioration we added a layer of Ultra View glazing (that looks like there is nothing there). We decided that the original outer moulding was not stable enough to support the weight of the mirror and the glass we planned to add to the piece so we replaced it with a new outer moulding to suit.
This map was found in the ceiling of our clients first home. As Fraser Island is a special place for them they felt it would make a great piece to hang in their new home. Having been in the roof of a QLD home since the 50's or 60's it was in extremely brittle condition. Asthey were only wanting it for display in their home the were not wanting to have it fully conserved. We were able to relax the paper and make it more supple to be able to flatten it. We then repaired the many tears and cracks. This helped for framing. The piece was then framed in one of our Native Timber Range. Brushbox which is native to Fraser Island.
An example of corner ornamentation repair
before
Before and after of basic cleaning of an oil painting.